Updated:Egypt Appeal 2011
This Appeal is now Completed - Many thanks for your support.
Latest update from The Bishop of Egypt on the emergency in Egypt, and 2 new microloan success stories through EpiscoCare.
3rd December 2011: Latest need! There have been unexpected heavy rains in Ras El Soda and many homes have been flooded. Weak roofs were destroyed leaving water damaged furnityre inside.
The Community Development Centre in Ras el Soda has been approached by 30 families, Christians & Muslims, for help in rebuilding roofs.
In order to rebuild as soon as possible and to be cost effective the homes will be re-roofed with wood.
The cost per home is 1,800 LE (about GB£200 / US$300).
Current fund balance 33,542.79 LE will be used to support those affected but it will not be possible to help everyone at this moment.
---
15th February 2011: The Most Rev. Dr. Mouneer Hanna Anis, Bishop of Egypt launched an appeal to raise funds to provide emergency food parcels to Egyptian families who had lost their jobs following the 25th January 2011 revolution.
The distribution would be via their seven Community Development Centres which on average each support 2,500 families, half of which are classified as "the poorest of the poor"
Just GB£11 or US$17 is enough to provide basic food for a family of 6 for one week.
Grants & Donations
In response to the appeal from the Diocese of Egypt, JMECA was able to send a grant of £3,000 from it's emergency reserve investment fund.
JMECA supporters also gave generously and through their donations and Gift Aid tax reclaims we were able to send a further £324.74 to boost the relief fund.
Many other associations and individuals sent donations which to date has provided 594,188.75 LE (approx. GB£63,565/ US$98,122).
How this money been used - Final Update: 07-01-12
Over the last 44 weeks 587,163 LE has been spent on:
providing food parcels to thousands of families,including the basic foods such as rice, beans, pasta, oil, vegetarian butter, meat, tea and sugar

rent payments to prevent eviction

micro-loans to enable people to set up in business

opening a new community development centre in Suez City (10,000 LE)

renovation of community building in Ezbit en Nakhl (14,000 LE)
---
I feel that I am now an adult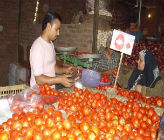 My name is Badry Gamal. I live in Ain Shams. I am married and have 2 children. My father works as a vegetable seller and I was working with him. My income was very low.
I heard from my friends about the Community Development Centre in Ain Shams and its work with needy people. Actually I felt that God opened a new door for me, so I went to the center and I asked them to help me with a loan so that I could have a branch of my father's business.
I told them that I need more money to help my children and so that I could actually feel like an adult.
They welcomed me and encouraged me very much. They also visited me and visited the place that my father works in. They then agreed for me to have the loan and went with me to buy the vegetable.
Now I have a branch and am a partner to my father in business. I would like to repay a high percentage of the loan in order to get a new loan to expand my business.
I would like to thank God for His help and for my new income. Also I would like to thank all the staff in Ain Shams Community Development Centre.
---
I have remodeled my home…and my life

My name is Magda Fathy Abed El Aszem. I live in Medinet El Salam. I am 32 years old. I am married and have two children, one of them is 12 years old and the other is 5 years old.
My husband is working day to day work, but after 25 January 2011 Revolution his opportunity to get job became very limited. I felt very bad since I was always asking for money to feed my children.
One day I was sharing my problem with my friends and one of them told me that Medinet El Salam Community Development Center helps people to get loans and establish their own project. She also told me that they follow up the project and teach people to expand their work.
I was encouraged very much and I went to the center to ask them for a loan. They welcomed me and came to visit me. Then they decided to give me a loan.
I bought readymade clothes to sell. I made some money from my project which encouraged me to work harder in order to get another loan. I have been able to feed my children and I have even saved some money to paint part of my house. I am happy now because I have a positive role in my family life. I thank God for the staff in Medinet El Salam Community Development Centre.
---
Fatam's Story
My name is Fatma Mohamed. I live in Ain Shams, where I live with my mother, my two sisters and two brothers. My father is dead so my husband used to pay for our living. He didn't have a stable job, but he used to seek employment each day.
However, after the Egyptian Revolution he was not able to find any work. Two months later, he divorced me, and suddenly I found myself responsible for all of my family. I felt very disappointed, but I had to do something to overcome the situation. I went to the Ain Shams community development center and asked for a loan. They visited me and decided to lend me the money. They also helped me to buy ready-made cloths that I could sell. Now my mother helps me in marketing, and I have a good income to feed all the family.
Thanks to God and to all of the Ain Shams staff .