Youth Conference in Alexandria

Do not let anyone look down on you because you are young, but be an example for other believers in your speech, behavior, love, faithfulness, and purity.
1 Timothy 4v12
Bait El Salam and El Agamy recently hosted a youth conference in Alexandria from Thursday, June 14th to Monday, June 18th. The leader of the conference was Ramez Bekheet, a member of the Diocese of Egypt's Youth Committee.

Roughly 130 youth attended the conference, called "Discover, Invest, and Start". The conference was focused on helping the attendees discover their strengths and hobbies that God has blessed them with. They also discussed why God has given them such gifts, and how to make good use of them for the His glory.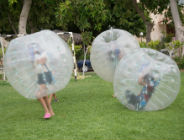 The conference included discussions, lectures, times of worship, fun activities, and three services, including Holy Communion.
Youth from churches in Old Cairo, El Salam, Giza, Ezbet El Nakhl, Port Said, as well as members of sports teams from Port Said and Banha, attended the youth conference.