The Passing of Dr. John Fayek of Harpur Memorial
"The Lord gave, and the Lord has taken away; blessed be the name of the Lord." Job 1:21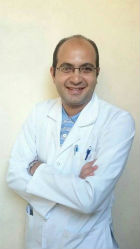 With heavy hearts full of the pain of separation, the church commits Dr. John Fayek to the faithful hands of the Lord. Dr. John passed away from our world to the eternal resting place to be with Christ, and this is much better. 
Dr. John Fayek was a surgeon who worked at Harpur Memorial Hospital in Menouf. He was sent to one of the hospitals in Cameroon for further surgical training. During his time there, he fell down from one of the mountains while he was taking some photographs. He lost his life instantly.
I did not know Dr. John closely, however, I knew about his strong faith and witnessing life through the words and the tears of his colleagues at the hospital. Let us pray for his brothers, sisters, and parents, and his wider family of the hospital and the Diocese of Egypt.

+ Mouneer
Bishop of the Episcopal/Anglican Diocese of Egypt
With North Africa and the Horn of Africa
Posted 7th December 2017