You don't have to be English to be Anglican
You don't have to be English to be Anglican
Dear Friends,
Greetings in the Name of our Lord Jesus Christ!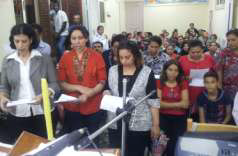 It was a great joy to celebrate our newest congregation; at the Ain Shams Community Development Centre in Cairo. While listening to the singing, I was reminded of something Lord George Carey, the former Archbishop of Canterbury, said in 1995;
you don't have to be English to be Anglican
When I met Lord Carey a few years later in 2002, I shared with him about our churches in poor areas where people are not educated. I asked him "How can we use the prayer book?". He said to "let them do the liturgy in a more musical or chanting way. If they sing it, they will remember it." The songs at the service in Ain Shams were theology. The songs were very Egyptian, and people sang loudly and passionately. The songs taught very important theological facts. All this reminded me of Lord Carey's words.
On another subject, recently Christians in Rafah City were threatened by Muslim extremists and pressured to leave. A shop owned by a Christians was shot with bullets. Many Christians were afraid and left the city. Many people were sad and angry as they felt that Christians should be protected.
While this was happening, one of the guards outside All Saint's Cathedral, Ahmed, stopped me and said "
Bishop, I feel very sorry for the Christians in Rafah. Please know what has happened is not of Islam. Those who did it, were not following the teachings of Islam.
He had never stopped me before, but he stopped to say this. Perhaps this was because at the time of the release of the film insulting the Prophet Mohammed, I stopped Ahmed and said "this insulting film is against the teachings of Christ who teaches us to love."
It is worth mentioning that I was also encouraged by President Mursi's statement in a recent speech; "anyone who attacks Christians, attacks me personally."
May the Lord bless you!
+ Mouneer Egypt
The Most Rev. Dr. Mouneer Hanna Anis
Bishop of the Episcopal / Anglican Diocese of Egypt with North Africa and the Horn of Africa
President Bishop of the Episcopal / Anglican Province of Jerusalem and the Middle East
Diocese of Egypt Newsletter - September 2012