Does charity begin at home?

Where are the boundaries of Charity?
My family, my friend's family, the families in my community or country or the families of the world?
My understanding of, and commitment to, charity certainly began at home. It was a significant part of my childhood. As soon as I could count and understood the 'new' decimal coinage I joined my dad and aunt counting money from collecting boxes for National Children's Home (now Action for Children) on an annual basis. Then there were the coffee mornings, nearly new sales, not to mention countless evenings sewing or knitting for charity.  Giving time or money to charity has stayed with me throughout my life thanks to the values instilled in me at home by my family and friends.  In fact, only last weekend I spent my Sunday afternoon counting money from Christian Aid Week envelopes and this upbringing was at the heart of my decision to take this extremely fulfilling job as Administrator for The Jerusalem and the Middle East Church Association.
However, when it comes to giving to charity, should it be the case that charity begins at home? Where do we set the boundary for our giving?
Clearly we have a responsibility to support our family and make sure they are well cared for. Surely we should also look out for our friends; fundamental to a true friendship is to be there for them in their hour of need. Then there are so many good causes on our doorsteps. So why should we look further afield and support overseas charities?
As a Christian, my mind automatically turns towards Jesus' response to the lawyer's question "who is my neighbour?" when he asked for clarification of the second commandment "Love your neighbour as yourself".  Jesus told the story of the Good Samaritan to show that we need to reach out to anyone who is in need, no matter where they are or who they are. We are instructed to emulate Jesus and bring mercy to anyone we find in need. We should love without boundaries.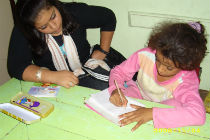 For me the answer to whether charity begins at home is "Yes, but it shouldn't end there". We do have a responsibility to those who are near and dear to us, but equally we have a responsibility for countless individuals across the world whose names we will never know and whose circumstances we can hardly begin to imagine.
Shirley
Posted 23rd May 2012