Extract from sermon at Grant LeMarquand's consecration
Dear Brothers and Sisters
Greetings in the Name of our Lord Jesus Christ!
It is a great joy to introduce The Rt. Rev. Dr. Grant LeMarquand as an Assistant Bishop in the Diocese of Egypt with North Africa and the Horn of Africa. He will be an Area Bishop for the Horn of Africa, assisting me in the ministry in Ethiopia, Eritrea, Somalia and Djibouti. The following words were from my sermon at his consecration at All Saints Cathedral on 25 April 2012:
Grant, today you will walk in the steps of St. Frumentius, the first Bishop of Axum in Abyssinia, who was ordained by St. Athanasius, the Patriarch in Alexandria, here in Egypt in the 4th Century. In this tradition, we are consecrating you an Area Bishop for the Horn of Africa. I am not in any way comparing myself with the great St. Athansius who defended the faith against heresies. But we both need to be ready to stand firm in the faith we once received from the saints, even if this leads us to be "contra mundum" or "against the world" like St. Athanasius!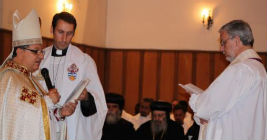 We stand in front of a great history that tells us about great men of God who were keen to preach the Gospel of Jesus Christ to the continent of Africa. Dr. Grant as you start your journey to Ethiopia, and as you follow Jesus on this journey, I pray that you would find encouragement in the story of St. Frumentius and how God used him to build the Church of Christ in Ethiopia. I also would like you to know that you will go to harvest the fruit of the seeds that were sown by many great servants of the Lord, including Bishop Andrew Proud who preceded you. You will also sow many seeds for the future generations of servants.
The church in Africa needs to be grounded in the faith and grow in the knowledge and love of Jesus Christ, so that she can replay the role she played in the first millennium in shaping the Christian mind. As you know, the church in Africa is growing numerically in an amazing way however, there is a great need for theological education and making true disciples.
In summary, our reading from the Gospel of St. Mark teaches us: First, to continue our mission in spite of obstacles and rejections. Second, to trust that God who called us gives us grace, spiritual authority and strength to meet the needs of the people. Third, to trust that God will provide all our needs as long as we care for His flock. Fourth, to preach and teach the Gospel of Jesus Christ as this will build up the church. Finally, I would like to leave with you a beautiful promise which I have experienced many times. It is the one that St. Paul wrote to the Church in Thessalonica,
"The one who calls you is faithful and he will do it"
(1 Thess 5:24).
 

+ Mouneer Egypt
The Most Rev. Dr. Mouneer Hanna Anis
Bishop of the Episcopal / Anglican Diocese of Egypt with North Africa and the Horn of Africa
President Bishop of the Episcopal / Anglican Province of Jerusalem and the Middle East
Diocesan Newsletter April 2012