A New Dean at St Christopher's Cathedral, Bahrain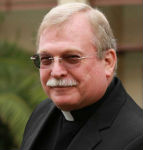 Bishop Michael is very pleased to announce that the next Dean of St Christopher's Cathedral, Manama, Bahrain, one of the two co-equal cathedrals of the Diocese of Cyprus and the Gulf, is to be the Venerable Dr Bill Schwartz OBE.
He will also continue to be Archdeacon in the Gulf, discharging his wider responsibilities and bringing to bear his wisdom and unrivalled experience in the region from this new location.
Please pray for Bill, his wife Edith, and the people of Bahrain as Bill prepares to start ministry there at the beginning of May.  A formal celebration of his installation, led by the bishop, will take place at 6 pm on Saturday 1 June, to which all will be welcome. 
---
Archdeacon Bill's journey:
Bill Schwartz was born in 1952 in Omaha, Nebraska, USA.
1970-1975:  Bachelor of Arts degrees in English Literature and Philosophy from Tarkio College, Tarkio, Missouri

1973-1977:  Director of the overseas study programme of Tarkio College in Alexandria, Egypt

1977-1981:  Administrator and Assistant Director, Institute of Middle East Studies, Skouriotissa, Cyprus

1981-1989:  Director of Research (Middle East) for 'Open Doors', Limassol, Cyprus

1986-1999:  Limassol: Chairman of the House of Laity of the Diocesan Synod, Assistant Treasurer of the Diocese, lay member of the Provincial Synod, lay member of the Diocesan Standing Committee of the Diocese. Nicosia: Diocesan Secretary/Treasurer

1993: Ordained deacon in Larnaca, Cyprus

1993 (August): Ordained priest at All Hallows by the Tower

1999-2007:  Rector, Canterbury Group (Saudi Arabia)

2006 (February 6):  Made Canon of St Christopher's Cathedral, Bahrain

2007-2014:  Senior Chaplain, Qatar

2007-present:  Provincial Treasurer

2009:  Appointed as Archdeacon in the Gulf

2013:  Awarded DMin at Nashotah House Seminary, USA
Posted March 2019