Ordinations in Egypt
Dear Friends,
It is with great joy that I announce that the following five clergy in the Diocese of Egypt were given new leadership responsibilities. We also rejoice at the ordination of 3 new deacons. I appreciate your prayers for them.
The Venerable Revd Dr Emad N Basilios, Archdeacon of Egypt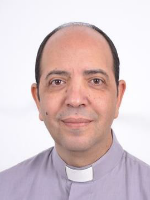 Revd Emad was born in Cairo 1962 and graduated from the Pharmacy College in 1988. Married to Hanaa, they have two daughters: Joyce, who is 17, and Grace, who is 13. He graduated from Alexandria School of Theology with a Bachelor's diploma in 2010, and the Master of Divinity in 2018.
Emad was ordained as Deacon in September 2011 and Priest in 2012. He then served in The Church of St. Michael and All Angels, Heliopolis as Assistant Priest before becoming Rector of The Church of Saint Athanasios, Ain Shams in 2014 where he continues to serve.
Revd Emad has shown a faithful commitment to serving the Body of Christ and has proven gifts of administration and pastoral care. His concern for the spiritual vitality of those who serve in the Church as servant leaders is a source of joy to his colleagues.
The Very Revd Canon Hany Shenoda Nassif, Dean of the Suez Canal Region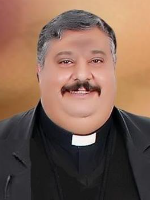 Canon Hany was born in 1963 in Assiut, Upper Egypt. He is husband to Mariam Mounir Asaad and father of both Randy (22) and Bonita (20).
He holds a Diploma from the Commercial Technical Institute (1983), a Diploma of Evangelical Theological Studies (1991) and a Diploma of Episcopal Theology from Chichester, England (1991).
Canon Hany was ordained as Deacon on May 13, 1994 and was ordained a Priest on the 1st of November 1996 and served The Church of St. Mark, Menouf. He later came to serve as Rector of The Church of the Savior, Suez in September 2000, serving there until June 2011 when he became Rector of The Church of the Epiphany, Port Said.
He was appointed Canon of All Saints' Cathedral in May 2018 and is responsible for the Evangelism Committee as well as the Discipleship Committee.
The Revd Hamdy Sedky Daoud, Canon at All Saints' Cathedral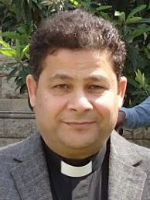 Revd Hamdy is 57 years old and married to Yvonne; they have a 17-year-old son. He is currently Priest in Charge of the Arabic congregation at The Church of Saint John the Baptist, Maadi in Cairo. Revd Hamdy earned a Diploma in Biblical Studies from The Evangelical Seminary, Cairo, Egypt in 1990. He was confirmed as an Anglican in 1990 and then received a Diploma in Ministerial Theology from Chichester, UK in 1994. Hamdy was ordained Deacon in 1994 and Priest in 1995.
His calling as an Anglican Priest for the past twenty-four years has included leading parishes and humanitarian/social ministries based in many locations with a variety of cultures. This has led him to urban and poor areas of Cairo, Alexandria, Ethiopia, Malaysia, Libya, England and Algeria. He strongly believes "that the Bible, Church Tradition and Reason are very essential to embrace the current diversity within most churches today."
Revd Hamdy was honoured to receive the Canterbury Cross from the Archbishop of Canterbury as an acknowledgement of his courageous and faithful service to the Anglican Church in North Africa, which is part of the Diocese of Egypt.
The Revd Yashou Bakheet, Sub-Dean, Arabic Speaking Congregation, All Saints' Cathedral, Zamalek, Cairo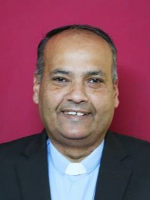 Revd Yashou, Priest in Charge of the Arabic speaking Congregation at All Saints' Cathedral, is also responsible for the Prison Ministry which is an outreach of the Diocese of Egypt. At present he is the Secretary General of the Egypt Council of Churches.
He holds a Bachelor's degree in Social Work, a Bachelor of Theology and MA in Ministry from a US-based theological program. Revd Yashou has served as an instructor in Alexandria School of Theology.
He was ordained as Deacon in 2001 and Priest in 2002. He is married to Engineer Manal Menassa, who is responsible for the Diocesan Children's Ministry. They are blessed with three children, Karim, Nada and Sandy.
The Revd Kerry Buttram, Sub-Dean, English Speaking Congregation, All Saints' Cathedral, Zamalek, Cairo
Revd Kerry has been serving in Egypt since 2015 as Priest in Charge of the English Speaking Congregation at All Saints' Cathedral, Cairo. Before coming to Egypt he and his wife, Cynthia, served in churches in the USA and in various international contexts such as Cyprus, Jordan and Ireland. He is a citizen of the USA.
He and Cynthia have helped to start new churches, provided Biblical and Theological training for church leaders and prepared people to work in other cultures to bring the good news of Jesus Christ. Revd Kerry and Cynthia seek to support the Myanmar community who worship at All Saints' Cathedral. He and Cynthia, a licensed Lay Reader, are members of SAMS-USA (Society of Anglican Missionaries and Senders) and ICS (Intercontinental Church Society) in partnership with the Episcopal/ Anglican Diocese of Egypt.
The English Speaking Congregation holds two primary worship services weekly (Fridays and Sundays) whose membership is made up of some 25 nationalities. Revd Kerry has led services of commemoration on behalf of the UK, Australian and New Zealand embassies at several locations of the Commonwealth War Graves in Egypt yearly as part of his responsibilities at the Chaplain to the English Speaking Congregation of All Saints' Cathedral. He delights in seeing people who have been wounded by the trials and struggles of life begin to find joy in knowing Christ and caring for the needs of others.
---
The following three candidates were ordained into the
Sacred Order of Deacons:
The Revd Dr Rafik Wagdy, Deacon, Saint Michael and All Angels Church, Heliopolis, Cairo
The Revd Dr Steven Griffin, Deacon, All Saints' Cathedral, Zamalek, Cairo
The Revd Richard Kaiser, Deacon, St. John the Baptist, Maadi, Cairo
Bishop Mouneer Egypt
The Rt. Rev. Dr. Mouneer Hanna Anis
Bishop of the Episcopal / Anglican Diocese of Egypt with North Africa and the Horn of Africa
Posted March 2019