Al Ahli Hospital Under Threat Following USA Funding Cuts to UNRWA
Al Ahli Hospital's monthly stipend from UNRWA (United Nations Relief and Works Agency) has now been stripped from $54,000 to $14,000 - a direct result of USA's recent cuts to UNRWA funds.  Many humanitarian institutions and ministries which aid Palestinians in Gaza now face a similar threat.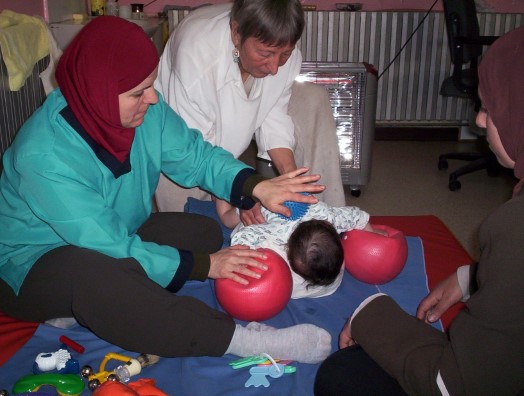 Child receiving Treatment at Al Ahli Hospital
Al Ahli Arab Hospital, located in the Palestinian territory of Gaza, is one of 30 social service ministries owned and operated by the Episcopal Diocese of Jerusalem. Although Gaza's Christian population has dwindled to around 900, the hospital is busier than ever. As the only charitable hospital in Gaza City, Ahli Hospital provides medical care with Christian witness to any of Gaza's 1.9 million residents, regardless of ethnicity or religion.
UNRWA, the agency, founded in 1949 to meet the needs of Palestinian refugees, provides support to a number of education, health care, relief and social service organizations, including Ahli Hospital.   For an institution that spends more than $100,000 monthly on diesel fuel to keep generators running amid daily power outages, the implications for Ahli Hospital are profound. Such cuts jeopardize the programme that treats about 400 underweight and malnourished children each year, a lifeline to families in Gaza, where according to a 2015 study, 24.4 percent of children are underweight and 52.4 percent have stunted growth.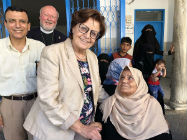 And that is just one of the hospital's medical services threatened by the withdrawal of U.S. aid. Ahli Hospital's medical care proves vitally important because of the restrictions Israel places on the movement of people and supplies to and from Gaza. More than 40 percent of all requests from Gaza residents for travel permits to seek medical treatment outside the Palestinian territory are denied.
In addition to the significant decrease in aid directly from UNRWA, hospital administrators must deal with the effects of cuts to USAID-funded partners. A three-year, $900,000 joint project between Ahli Hospital and Mercy Corps, which subsidizes medical care to refugees, was also defunded. The elimination of two major funding sources at once has forced a reduction in direct services to patients and triggered staff layoffs.
Following a recent visit by representatives from the American Friends of the Episcopal Diocese of Jerusalem (AFED) on Oct 11th, the Princess Basma Centre Director Ibrahim Faltis said:
"If we don't receive money for providing therapies for children, we will have no choice but to close down in a few months because we will not have money to pay salaries or our suppliers - The situation is so severe that somebody who is sane needs to intervene to help us."
In a recent letter addressed to partners across the Anglican Communion, the Most Rev. Suheil Dawani, Archbishop of the Episcopal Diocese of Jerusalem, expressed his concerns related to the cuts.
"If we don't act immediately and shift gears to find other means of support and subsidy to our affected diocesan institutions, I can't perceive how we can sustain and support them with the limited resources we have.   I am very much concerned and afraid that cutting off all American assistance, mostly in humanitarian aid, has hobbled the aid agencies that receive the funds, and more consequently, crippled the lives of Palestinians who continue to live in dire need and have fewer employment prospects now more than ever. This is unfair and beneath our compassion."
Despite concern for the Diocese of Jerusalem's continued humanitarian work, AFEDJ trustees were struck by the hope they found among the institutions' leaders.  Endicott Peabody, a trustee from the Diocese of Arizona, said:
"I was particularly struck by the spirit of optimism and hope that I saw in leaders' faces and heard in their words. I wondered why they were not as angry and frustrated as I felt. It's clear that Jesus' words to 'love thy neighbor as thyself' are more than just words here. They are the creed that drives our lives and our work every single day."
Story from Episcopal News Service 
Posted 01/11/18