New Beginnings in Limassol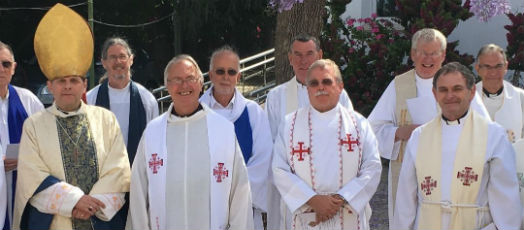 JMECA is pleased to be able to provide the Revd Canon Dr Andrew Mayes with a grant from the Bishop Cragg Travel Fund which was set up by the Bishop to fund his travel around the dioceses of the Middle East and now provides travel grants for clergy holding similar appointments in the region.

The Revd Canon Dr Andrew Mayes TSSF was licensed and installed as chaplain and parish priest of Limassol on Saturday 5 May.  He will also serve as diocesan spirituality adviser and comes from a similar combination of posts in the Diocese of Chichester.
With his wife Ann he was welcomed by the congregations of St Barnabas and St Lazarus and is seen here, second from left, with Bishop Michael, Archdeacon John of Cyprus, far right, and Archdeacon Bill of the Gulf, together with some of the supporting clergy and Readers.
Posted: June 2018