Bishop Mouneer Awarded the I CAN award

On Friday February 23rd, Bishop Mouneer H. Anis was honoured by Disciples of Jesus Christ Organization, founded by Mama Maggie Gobran, in the presence of Bishop Moses Tay, the former Bishop of Diocese of Singapore and Archbishop of the Anglican Province of South East Asia. Disciples of Jesus Christ Organization is an NGO whose mission is to help save lives, bring hope, and restore dignity to under-privileged children and young people so they may reach their own people.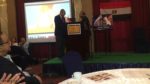 I CAN award recognizes those who have made an outstanding contribution in the lives of under-privileged children of the slum and squatting areas of Egypt.
28th February 2018