Southwark Pilgrimage 2018 - Jesus Entry into Jerusalem
Southwark Diocesan Holy Land Pilgrimage 2018 - Jesus Entry into Jerusalem
From 19 – 26 February 2018, The Bishop of Southwark, the Rt Revd Christopher Chessun, and the Dean of Southwark, the Very Revd Andrew Nunn, are leading a group of 90 pilgrims to the Holy Land.
Have you been fortunate enough to embark on a Pilgrimage to the Holy Land? Even if you haven't, you cannot fail to be stirred by how the Pilgrims feel and what they see on their  amazing journey.  The physical and spiritual exitement is relayed day by day in this wonderful journal (blog), courtesy of Wendy S Robins, the Diocesan Director of Communications and Bishop of Southwark's Press Officer, who is travelling with the pilgrims and providing regular updates as they journey through the Holy Land.  She invites some of the pilgrims to offer their own reflections.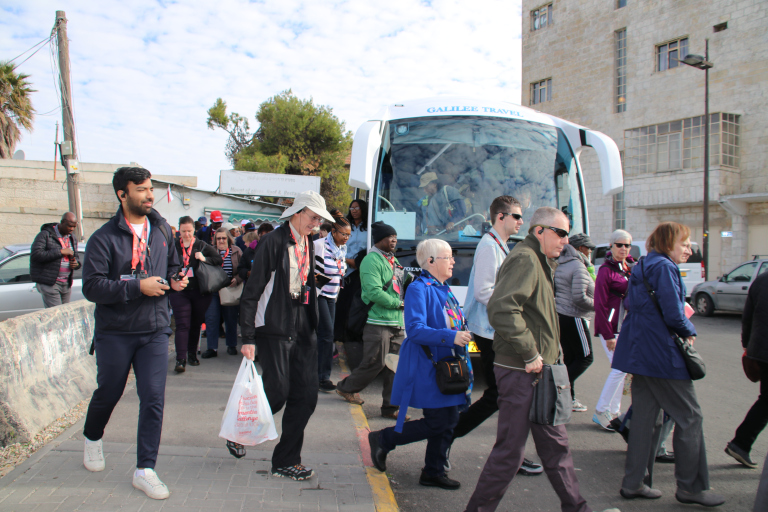 Day 1 - Jerusalem
Here, we join them on the first day as they follow the way of Jesus and his triumphal entry into Jerusalem.
As we begin our journey we use our worship booklet for the first time and it is amazing to say Psalm 122 in the sight of the walls of Jerusalem:
Pray for the peace of Jerusalem:
    "May they prosper who love you.
Peace be within your walls,
and security within your towers."
Read the full account  in the Southwark Diocesan Pilgrimage