A City Without Love is like a City Without Water

Dr Clare Amos, Director and Trustee of JMECA, reflects on her 40 year association with Jerusalem during which time she was Course Director at St George's College, Jerusalem
A city without love is like a city without water
That was a memorable remark made to us by a Palestinian shopkeeper in the Old City of Jerusalem, as my husband, Alan, and I were wandering round its streets during the last few days. We had come to Jerusalem to celebrate our 40th wedding anniversary in the place where we had first met, in the courtyard of St George's Anglican Cathedral. We had just come out of Evensong and the then-Dean made the introduction. How Anglican can one get! We eyed each other with mistrust. A walk together in the wilderness a few days later changed that.
In the past 40 years I have visited Jerusalem many times, occasionally for personal reasons, more often for work. This week's visit was the first time that Alan had been in Jerusalem since 1982. It was interesting for me to view the city through his less accustomed eyes: and interesting, I hope, for him that I was able to show him some of the less well trodden places.
My professional work over the years has required me to reflect often on Jerusalem, although that is in truth no hardship. I have been fascinated and enthralled by the city ever since I first visited it during my gap-year in 1970. It has often made me ask myself the question, which is only too relevant at the present time: "what is it that makes a place or a city holy?"
There is a proverb in the Talmud that epitomises this question:
10 parts of beauty gave God to mankind, nine to Jerusalem and one to the remainder; 10 parts of sorrow gave God to mankind, nine to Jerusalem and one to the remainder.
In spite of the occasional high-rise building now marring the horizon from the viewpoint on the Mount of Olives, the centre of Jerusalem does still offer us a profound beauty. Yet the violence and the sorrow that the city has experienced all too often throughout history are somehow entwined with this beauty.
There is an intensity of feeling associated with Jerusalem that marks it out from other places. Jerusalem is a symbol in stone of the reality that human beings find it very difficult to love without also seeking to possess. For me the "holiness" of Jerusalem is linked to the way that the city does not allow us to evade this reality, and so perhaps can encourage us to begin to address it.
We had been discussing with our Palestinian interlocutor the reactions of Jerusalemites to President Trump's decision to move the US Embassy to the city. He offered a striking image: the very life of Jerusalem has always depended on water. The Jebusite settlement captured by David was on a hill chosen because its base has the vicinity's only natural spring.
Many of the New Testament-era remains in the city are aqueducts and cisterns built to supply the water needs of the population. The lanes of the city contain fountains erected in Mamluk and Ottoman times which are both practical and beautiful. Without water Jerusalem cannot live.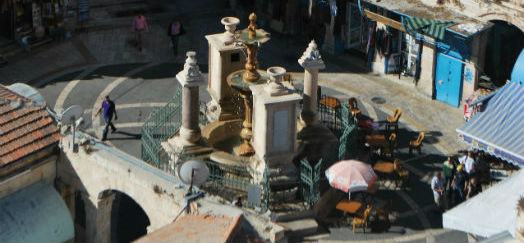 Our Palestinian friend was referring to the sense of sullen despair and anger which has pervaded East Jerusalem since Trump's announcement. It was something that visitors like us could feel, almost smell. Certainly as understood through the lens of his later remarks, the words of the US President were seen as taking away hope of change. The edict also seemed to be denying what is for me a vital vision of Jerusalem – that it is called to be a city which teaches human beings something fundamental about sharing.
Jerusalem may be the place where God has dwelt, but if we think we can therefore possess and control God then we quickly discover a deity who has slipped our grasp and travelled on ahead. Over the centuries, Judaism, Christianity and Islam have all needed at times to learn this lesson.
Certainly Christians have no right to think that they are "holier than thou". However, a memorandum of the heads of the Jerusalem churches presented in 1994 still feels very relevant nearly 25 years later: 
The experience of history teaches us that in order for Jerusalem to be a city of peace, no longer lusted after from the outside and thus a bone of contention between warring sides, it cannot belong exclusively to one people or to only one religion. . .
The Anglican Diocese of Jerusalem is committed to a work of reconciliation. Recent developments have made such work in the city and land even more difficult.
I sometimes reflect that the walk Alan and I took in the Judaean wilderness in July 1977 would now be impossible. The wall – that symbol of partition and control, as well as understandable desire for security – would physically prevent it.
Where such barriers exist, how can mutual love flourish between human beings?