Rememberance Day Services across the Gulf

The Act of Rememberance at the British Embassy in Bahrain
Remembrance day started out remembering those who died serving in the armed forces during the Great War. These days commonwealth and some non-commonwealth countries continue to observe the custom and have extended it to remember those who have lost their lives defending freedom in the Second World War and subsequent conflicts around the world. 
Here's a snapshot of how Remembrance Day was observed across the Gulf in 2017.
Trumpet Sounds Remembrance in Bahrain
St Christopher's Cathedral, Bahrain is in the heart of the Capital City, Manama, and hosts a Remembrance Day Service every November.  Ambassadors, Muslim leaders, military personnel, and Christian clergy and people of all denominations gather to remember the fallen at the Cathedral, Christian cemetery, and British Embassy.  The multi-faith and multi-national prayer gathering provides a prophetic voice for peace in a divided world.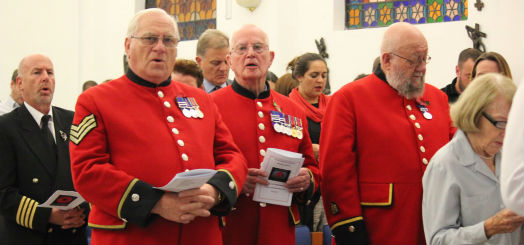 Visiting Chelsea pensioners at the St Christopher's Remembrance Service
---
Remembrance Day in Baghdad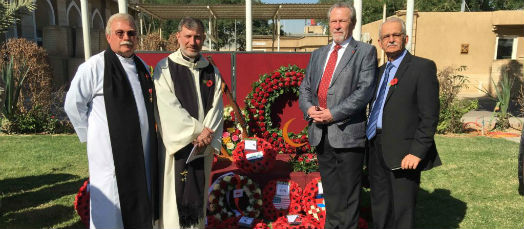 At an especially poignant ceremony attended by over 200 people and diplomats from many, many nations the British Embassy in Baghdad hosted a Remembrance service that honoured those who have died in war and as peacekeepers since the Great War began in 1914. The diocese was well represented by Dawlat Abuna, Canon John Banfield (Director of Finance) and Fr Faiz Jerjes, and Archdeacon Bill who together assisted in the prayers during the service.
---
The Elventh of the Eleventh, at Eleven
On what is traditionally the Great-War commemoration of Armistice Day (and the Feast of St Martin, once an officer in the Roman army) St Andrew Abu Dhabi hosted a Remembrance Day service.  The British, American, and Canadian ambassadors read pertinent readings and others from the diplomatic corps and many parts of various local communities attended, including Bishop Gregorios of the Greek Orthodox Patriarchate of Antioch, who lives next door.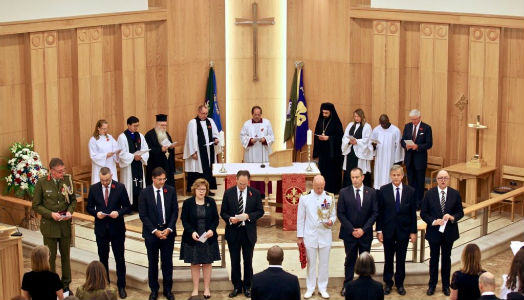 Posted 15/11/17