May 2015 Jerusalem Newsletter: Celebrating with our Young People
Dear Friends,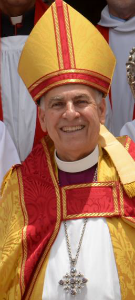 This has been a wonderful month of Celebration and Harvest, particularly for our children and young people.
We have been able to celebrate with many of our Educational Institutions as they have had their Graduations. This has been a real opportunity for their students, of all ages, to have their studies recognised and rewarded. It is always a joy to be able to affirm them and those who have nurtured and worked with them throughout the year.
These events remind and affirm for us the importance of education in this land as we strive to educate the next generation of children and young people in the Middle East to have opportunities to study, both in schools and higher education, to obtain the best qualifications that they can to equip them to stay in this land and make a contribution to a peaceful and just future.
Confirmation services of our parishes also provide the opportunity to pray for and nurture the young people in our congregations as they continue their journey with our Lord Jesus Christ. We are very aware of the heavy pressures on them and ask for your continued prayers for them as they live out their faith day by day.
The high point for us all was the celebration of Pentecost here in the Cathedral. We were joined by Priests and Parishioners from all over Galilee and the West Bank, as well as others from around the world, as they shared Worship and lunch together. It is always very special to be able to celebrate the coming of the Holy Spirit 'all together in one place'.
However, we continue to be very conscious of those within the wider family of the Diocese in Syria and Iraq who are not able to celebrate freely and continue to live in fear and threat of death and where so many have been martyred over recent months.
We ask for and greatly value your continuing prayers for all the work of this Diocese.
Salaam, Peace

+ Suheil Dawani
Other articles in the May Newsletter include:
Celebrating Pentacost at St. George's
Graduation ceremonies across the diocese
A day of fun at Christ School Nazareth
Voluntary work with Ramallah municipality
Click here to download the full newsletter and past editions