From 1 Room to 2 Flats!
My dear Friends,
Greetings in the Name of our Lord Jesus Christ!
This last week I was thrilled when I visited our Community Development Centre in Ain Shams and Medinet Salam. I listened to the testimonies of women whose lives were transformed through programs of our Community Development Centres.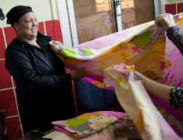 In particular, I was so moved by the story of Sahar who is a middle-aged Muslim woman, a widow and mother of five, who was helped by our economic empowerment program. She got a loan to start a small business sewing and selling bed sheets. It was so successful and has grown that she became well-known in the area.
I was living with my mother-in-law and my entire family in one room. Now I managed to buy two flats from the profits. Now my family lives in the one flat and my mother-in-law lives in the other flat. I am so happy! Thank you for helping me!
These words were so encouraging to hear from a lady whose not educated and yet she was an entrepreneur.
The economic empowerment program helped over 2,800 people in similar ways in starting new businesses through micro-loans. Mrs. Mariam Ibrahim, the Director of EpiscoCare which runs the Community Development Centres said,
We could help even more if we had the funds!
These encouraging stories give me hope that Egyptians can rebuild their country! All what we need as Egyptians are opportunities, equality and vision.
We are still struggling with writing our new constitution and there is tension between those who want to make a religious country and those who want a secular country where the rights of citizenship and the rule of law is the basis for law and order.
When we have such a constitution that ensures the rights of every citizen, many people like Sahar will emerge and rebuild Egypt.
"The God of heaven will give us success. We his servants will arise and rebuild"
(Nehemiah 20:20).
May the Lord bless you!

+ Mouneer Egypt
The Most Rev. Dr. Mouneer Hanna Anis
Bishop of the Episcopal / Anglican Diocese of Egypt with North Africa and the Horn of Africa
President Bishop of the Episcopal / Anglican Province of Jerusalem and the Middle East
Diocese of Egypt Newsletter - May 2012