News from the Episcopal Diocese of Egypt
Council of Anglican Provinces of Africa
From the 4th–8th February, the Very Rev. Canon Dr. Samy Fawzy Shehata, the Dean of St. Marks Pro-Cathedral in Alexandria, represented the Diocese of Egypt in the 11th CAPA meeting in Burundi. The Council is held every four years and it's members represent the twelve Anglican Provinces of Africa. The purpose of CAPA is to co-ordinate and provide a platform for the African part of the Anglican Communion to celebrate life and address challenges in the continent.
One specific topic that was discussed was Muslim and Christian relations in Africa.
News from Alexandria School of Theology - By Ms. Helen Fraser
Prior to the residential conference and the start of the new term, the staff and faculty of AST met for a time of fellowship and discussed the future of AST as well as various academic matters. Bishop Maurice Sinclair spoke on "Christian Mission in Turbulent Times", Rev. Emad Mikhail on "The Gospel of the Victorious Christ" and Rev. Canon Andrew Wheeler and Mr. Frank Newell gave presentations on extension forms of theological training.
AST welcomed back Dr. Gordon Jackson from Whitworth College, USA, who assessed AST in 2006 and will undertake a similar work in the coming weeks, and overseas faculty member Rev. Rick Belser and his wife Anne from the Diocese of South Carolina, USA and Rev. Canon Dr. Andrew Wheeler from St. Saviour's, Guilford, UK.

From 8th to 11th February, students, staff and faculty gathered for the bi-annual conference near Alexandria for an intensive program of lectures.
Memories from the Past...
St Mark's Pro-Cathedral, Alexandria
Then…
St Mark's is said to have visited Alexandria about 45AD. His first convert was shoemaker name Annianus, who was made Bishop by St. Mark. The Christian Church has been in existence in this city since that time.

In the early 19th century, Mohammed Ali Pasha, the Governor of Egypt (pictured right) granted a piece of land in Alexandria to establish the first Anglican Church in Egypt.
In 1839, the foundations stone of the Church of St Mark was laid. Among the donors to the building fund were Queen Victoria, the Viceroy of Egypt, and the Archbishop of Canterbury. The first service was held on Christmas Day in 1854.
Now...
St Mark's is now a lively congregation witnessing to Jesus in the heart of Alexandria. The Dean of St Mark's is the Very Rev. Canon Dr. Samy Fawzy Shehata, and Rev. Emad Azmy and Rev. Dr. Emil Zaky serve with him.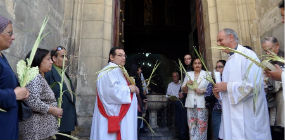 In February 2012, St Mark's hosted evangelistic events on three consecutive evenings. The theme of the events were ''Do you want to be healed?' Each night there were hundreds of people worshipping together.
Following these events, an Alpha course has started at St Mark's. Despite the bad weather, there were 105 participants (85 adults and 20 children) at the first meeting.
Visit of Rev. Dr. Stephen Sizer
From 13-20 February, Rev. Dr. Stephen Sizer spoke at various venues on Christian Zionism and its religious and political implications. The lectures on 'Christian Zionism: The historical roots, faith basis and political agenda' at St. Michael & All Angel's in Heliopolis, St John the Baptist in Maadi, and at All Saints' Cathedral in Zamalek were well attended.
Rev. Stephen Sizer is an Anglican priest from England. He has written many books on issues related to Israel, Palestine including Christian Zionism: Road Way to Armageddon and Zion's Christian Soldiers: The Bible, Israel and the Church. In his books and his talks, he questions the (theological) support of many western Christians for the state of Israel.
For more information, see his website www.stephensizer.com
Confirmations at Heliopolis
It was a joy to celebrate the confirmations of thirteen new members of St. Michael & All Angel's Church in Heliopolis. Rev. Dr. Jos Strengholt, with his new Arabic speaking congregation which meets on Sunday nights at 7pm, prepared the members, young and old, on the basics of faith and what Anglicans believe. Bishop Mouneer Anis preached the sermon and the music was played with the typical oriental instrument: the lute. We thank God for expanding the Kingdom of Heaven. Their website may be found here.
Obituary for the Very Rev. Canon Jim Doust By Bishop Mouneer Anis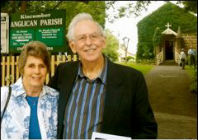 It was with great sadness, and yet with a thankful heart, that we received the news of Jim's departure to his heavenly home. All of us here in the Diocese are going to miss him very much. We thank God for his life and great witness to God's love.
Jim was a great encouragement to me personally. He was the first to encourage me, when I was a practicing medical doctor, to offer myself to ordained ministry. After I became a bishop, he was also a great mentor and support to me, my wife Nancy, and my sons. I saw Jim as a real warrior for the Lord who would not waste a day without witnessing for Him. Jim was a man of prayer who was ready to pray with people at any time and at any place.
Jim very much reminded me of Caleb who, in spite of his age, wanted to continue to serve and win the most difficult lands for the Lord. He continuously made himself available to serve in the most difficult and demanding places. In all this, Elaine was a faithful partner and co-worker with Jim for the Kingdom of God. Since 1993, they served in various places within the Diocese of Egypt and the Province. This included his ministry as the Dean of All Saints Cathedral Cairo. He also served in Algiers, Addis Ababa, Jordan, Sudan, and Syria.
It is our prayer that the Lord would fill the hearts of Elaine, all the family and friends with peace and comfort.
Addis Ababa Youth Weekend Away By Rev. Roger Kay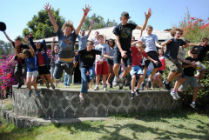 In January, Youth @ St Matts (the youth group at St Matthew's Addis Ababa) had a Weekend Away. Thirty students together with Dave, Vicky and Laura, the youth leaders went to Lake Babogaya at Bishoftu, an hour south of Addis Ababa for 2 days of study, discussion and fun.
Dave, Vicky and Laura will all be returning to the UK in July leaving a very big hole. There is no other youth group for expatriate kids in Addis. Youth @ St Matt's has been a very important spiritual home for the youth where they can ask tough questions, share their struggles and fears, study the Bible, learn and pray together. Pray with us that God would provide youth leaders to continue this ministry.
Way of Life Anti-Drug Program
The Way of Life is a ministry based in Alexandria. It is run by Rev. Dr. Emil Zaky, and it seeks to raise awareness about drug addiction, and to provide counseling. The approach used is based on cognitive therapy and behavioural therapy methods. It is based on Christian principles, and aims to convert addicts from drug addiction to be Christ dependent.

Over the past two years, the Way of Life has run the following activities
Prevention and raising awareness. 36 awareness sessions have been held in different churches and community centres around Egypt. The Way of Life has published four booklets about drug addiction.

Training leaders. 250 church leaders and community leaders have been trained so that they have the skills to deal with addiction problems in their community.

Counseling and treatment of addicts. Around 240 counseling sessions were held for addicts and their families. The Way of Life program assisted 60 people to go to rehabilitation centres.
The Way of Life program is currently struggling financially and is unable to continue these activities in 2012. If you would like to support this ministry, or know any organizations who would be interested to support it, please contact Rosie Fyfe from the Diocesan Partnership Office .
News from Provincial Synod of the Province of Jerusalem and the Middle East
From 27-29 February 2012, the Provincial Synod of the Province of Jerusalem and the Middle East met in Cyprus and, among other things, re-elected Archdeacon Bill Schwartz as the Provincial Treasurer, elected Ms. Georgia Katsantonis as the Provincial Secretary, and reelected Bishop Mouneer Anis to be the President-Bishop (Primate). These are five year terms which will be completed in 2017.
The Diocese Welcomes...
Joshua Ayorinda - In February 2012, Deacon Ayobami Ayorinde, a Nigerian
ministering at St George's Anglican Church in Tunis, and his wife Rosemary welcomed a new baby boy named "Joshua" to their family. Congratulations!
Rev. Iri and Kate Mato - For the next seven months, Rev. Iri and Kate will be serving in Gambella, Ethiopia. They will be supporting the Anglican churches in Gambella through theological education, filling in after the departure of Rev. Colin and Julia Hodgetts (see below). Rev. Iri and Kate are supported by CMS New Zealand and for the past six years, they have been serving in Dodmoa, Tanzania at Msalato Theological College.
The Diocese Farewells...
Rev. Colin and Julia Hodgetts - Since the departure of Bishop Andrew & Janice Proud, Bishop Mouneer invited the Rev. Colin and Julia Hodgetts to serve at the Gambella Anglican Centre in Gambella, Ethiopia. They were supporting the Anglican churches in Gambella through providing theological education and pastoral care to the many clergy and mission centres in Gambella. Rev. Colin and Julia were supported by CMS UK and have now returned to the UK for another "working" retirement as Rev. Colin has been commissioned to compose some music. They have faithfully served the Diocese of Egypt with North Africa and the Horn of Africa, and have been constant in prayer, conflict resolution, and in seeking partnerships and funding to continue the ministries in Gambella. Thank you! You will be missed!