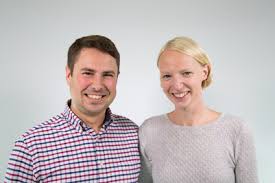 With just days before the arrival of their baby, Joel Kelling (Anglican Alliance's regional facilitator for the Middle East) and his wife Fiona completed their CMS training on the 21st March in Jerusalem.
Joel was appointed back in September 2017 and will be working with the Anglican Alliance and the Anglican Province of Jerusalem and the Middle East, covering the dioceses of Cyprus and the Gulf, Egypt and North Africa, Iran, and Jerusalem. He will be building the capacity of churches within the region and facilitating the educational, health and youth development activities across the province. He will also be strengthening relationships between the diverse Christian communities. Fiona aims to use her experience in humanitarian response to support refugee and marginalised populations currently residing in Jordan.
The role of regional facilitator for the Middle East came about at a time of growing regional conflict in the Middle East and an ever greater need to support the indigenous and migrant Christian populations of the Middle East.