The Chaplain of St George's Anglican Church in Baghdad, Father Faiz Jerjes, has been recognised by the Iraqi Army for his peace-building efforts. It is the second time in two years that Father Faiz's work has been recognised by Iraqi authorities.
In December last year the country's Ministry of Culture named him as one of Iraq's Distinguished Personalities of the Year for his work supporting human rights. Now, he has been recognised for his
outstanding contribution to peaceful co-existence in Iraq
Making the award, Lieutenant-General Othman al-Ghanmi, the Iraqi Army's Chief of Staff, applauded Father Faiz for his courage in helping to raise awareness of issues others feared to broach.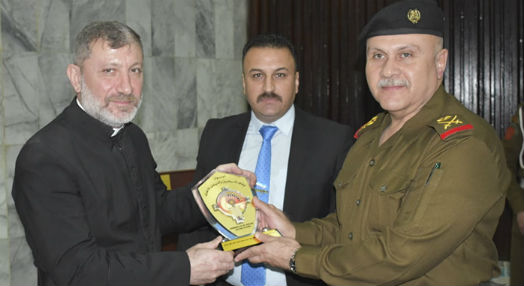 The award was presented last month (19 November) at Iraq's Joint-Army Staff College. During the presentation, Father Faiz described the history of Christians in Iraq and their spreading of a culture of love and peace.
The event was also addressed by the figures from other minority religious groups in Iraq, including the head of the global Mandean community, Sheikh Starr Abdul Jabbar; and an Iraqi Yazidi MP.
The presentation was attended by representatives from the Defence Ministry as well as the Dean of the Joint-Army Staff College and students.
On Tuesday, the Prince of Wales spoke at a service in Westminster Abbey in London, to praise the work of Christians in the Middle East and celebrated their bridge-building role in the region.