Presiding Bishop says Christians, despite dwindling numbers, are 'walking the way of Jesus'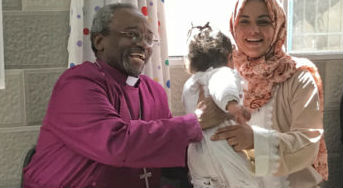 Suhaila Tarazi, the hospital's director general told Presiding Bishop Michael Curry and his delegation that the remaining Christians are "the living stones" of Gaza, and so too are institutions like Al Ahli Arab Hospital, which is one of more than 30 social service ministries of the Episcopal Diocese of Jerusalem.
Healing comes in many forms, and Al Ahli Arab Hospital's medical ministry combines every day with Christian witness to provide the people of the Gaza Strip with an example of the love of Christ in action.
That example is set in an area whose Christian population is dwindling. Suhaila Tarazi, the hospital's director general, estimates there are no more than 900 Christians among Gaza's 2 million residents. Ten years ago, the number of Christians stood at 3,000 and the total population was around 1.5 million.
The Al Ahli Arab Hospital has been ministering as a Christian witness in Gaza City since 1882. The hospital's situation is made more difficult by the restrictions Israel places on Gaza residents, including the movement of medicines and medical supplies, food, fuel and people in and out of the area.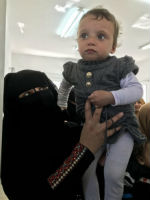 Curry and staff members who accompanied him met some of the patients and employees and heard about the services that benefit some 38,000 Gaza Strip residents each year. The hospital offers general surgery, general medicine, obstetrics and gynecology, pediatrics and emergency care. People are treated without regard to their financial situation, according to Tarazi.
She said the hospital struggles to survive and do the work of Jesus "in the most difficult and gloomy situation." 
The hospital is currently struggling in part because of a Trump administration decision in January to withhold $65 million of a $125 million contribution to the United Nations Relief and Works Agency for Palestinian Refugees (UNRWA).
Read the full report by the Episcopal News Service here.
Posted 4/4/2018