Jerusalem's Holy Sepulchre Closed in Protest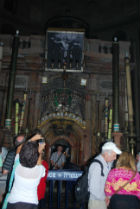 For the first time in almost 30 years, the doors remain closed at Jerusalem's holiest site in political protest against new tax laws and legislation which will allow the Israeli government to confiscate church property.
Thousands of pilgrims will be unable to visit Jerusalem's Holy Sepulchre until it re-opens but there has been no indication of when that will be.
Greek Orthodox, Armenian Apostolic and Catholic leaders, who jointly manage the site in Jerusalem's Old City said in a statement that the new laws are,
... an attempt to weaken the Christian presence in Jerusalem
They added,
As a measure of protest, we decided to take this unprecedented step of closure of the Church of the Holy Sepulchre.
26th February 2018