Easter Celebrations in Baghdad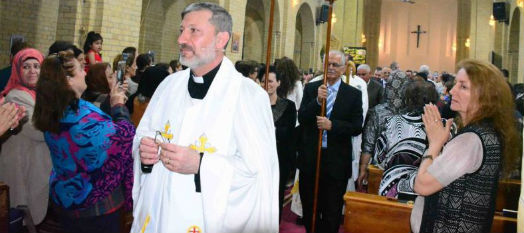 Reverend Faiz Jerges leads the procession
Bishop Michael Lewis joined a joyful celebration of the resurrection of Jesus at St George's Church in Baghdad. 
The church was full and included a number of religious leaders and representatives of different religions, nationalities and civil organizations, as well as the representative of the British Ambassador to Iraq who joined together with the local congregation of St George's. 
After the service, there was an opportunity for fellowship when the church served a dinner for all guests.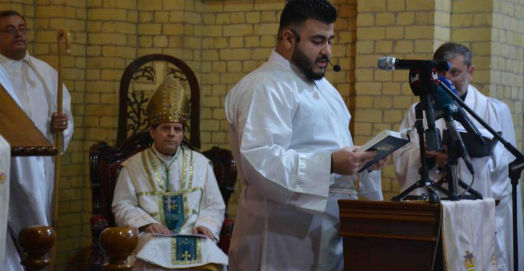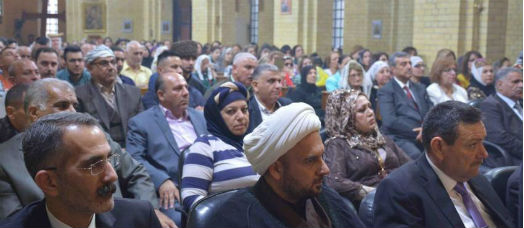 Click here to 

to the Good Friday Appeal to support the Bishops and Christians in the Middle East. 
---
Read the full Bishop's Diary of Holy Week in Iraq on the Anglican Communuion Website...it's well worth reading and here are a few highlights to whet your appetite:
Maundy Thursday
The Great Three Days begin. The altar is stripped and then covered in black.
Good Friday
A huge cross is carried in and laid against the altar. Hundreds come; before we kiss the cross we drink a vinegar drink from small cups. We leave in absolute silence.
Holy Saturday
We kindle new fire, light the Paschal Candle, and proclaim Christ risen. We make our first Easter communion.
Easter Sunday
The Church is packed. Incense rises. Television channels record all. At the recessional women ululate ecstatically. And this year we have been joined by special guests who eat with us afterwards.