Diocese of Cyprus and the Gulf
Bishop of Cyprus: The Rt. Revd. Michael Lewis
In 1976, when the new Province of the Episcopal Church in Jerusalem and the Middle East was inaugurated, Cyprus, Iraq, Kuwait, Qatar, Bahrain, Abu Dhabi, the United Arab Emirates, Oman, Yemen, Aden and the Canterbury Group formed the Diocese of Cyprus and the Gulf, providing support for the Chaplaincies in the expatriate communities which exist throughout the region. There are unique opportunities at the interface with Islam and great scope for ecumenical contact with Christian expatriate workers from the Indian sub-continent and the Far East. Cyprus itself has its problems and there are Churches on both sides of the dividing line in the island, with congregations that include elderly people who have retired to the island.
There are multiple thousands of expatriate Christians from many parts of Asia, Africa, the Middle East, Europe and the Americas served by our chaplaincies in the Gulf.  Given the changing immigrant populations Church structures are constantly developing as the diocese seeks to provide continuity and see that provision is made for leadership of the worship and the spiritual support. In many cases, great efforts have been made by the communities to provide the buildings and the support for such personnel - and all the churches are hosts to congregations of many different ethnic and language groups and Christian denominations in addition to Anglicans from across the world.
The ministry of the Bishop is, by definition, a travelling one, with Christian communities, so widely scattered, looking to him as a support guide and supporter. Since there is no endowment there has been an appeal for funds to make it possible to continue the episcopal ministry.
Support from the Jerusalem and the East Mission Trust is mainly directed to helping with the Bishop's stipend and expenses.
News from the Diocese can be found in our twice-yearly magazine, Bible Lands
The Diocesan web site is at www.cypgulf.org where you can access the latest news from Cyprus and the Gulf.
---
Contact information:
The Diocese of Cyprus and the Gulf
2 Grigori Afxentiou Street
PO Box 22075, Nicosia
Cyprus 1517
T: +357 2267 1220
M: +357 9961 9176
F: +357 2267 4553
Administrative Secretary: admin@cypgulf.org
Personal Assistant to the Bishop: georgia@spidernet.com.cy
---
The Diocese Retreats Ministry is a special ministry aiming to equip and resource Christians living in an increasingly busy world, by providing them with quiet and restful places, where they can take "time out" to listen to God. Facilities are offered to individuals, churches of any denomination and organisations, at the Katafiyio Retreat House in Cyprus and in other locations within the Diocese and Province.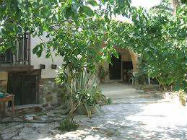 A tranquil place to rest and pray
Day Retreats
Quiet Days
Weeks of Guided Prayer
Spiritual Accompaniment
Seminars and workshops on Spirituality
                                                              Resources for prayer, service leaders and small groups
                                                              Professional Counselling