Boost for Anglicans in Doha as potential Readers begin training
Four years after their church was consecrated, Anglicans in the Qatari capital Doha have begun a Church Learning Group as members begin the process of vocational discernment. Many of those taking part in the new group hope to be selected for training as Readers at a selection conference which will be held in Spring 2018. Epiphany Church in Doha opened in September 2013. Work on its building, on land in the Church City complex donated by the former Emir of Qatar, Sheikh Hamad bin Khalifa Al Thani, began in 2008. The building is used by 60 Evangelical, Pentecostal and Protestant congregations.
The new Church Learning Group is using material provided through the Diocese of Cyprus and the Gulf's recent partnership with Queens College in Newfoundland. Their first meeting this week was attended by the Archdeacon of Cyprus, Dr John Holdsworth, in his role as diocesan director of ministry.
"The make-up of the group reflects the rich diversity of the parish, which boasts over 40 nationalities and who knows how many languages," the diocese said. "This group includes just five nationalities but an incredible range of abilities and experience."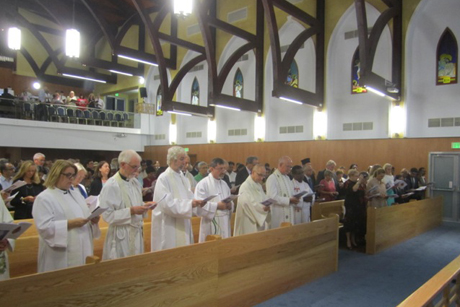 The congregation of the Church of the Epiphany as the Anglican Centre in Doha is consecrated in September 2013.
Photo: Ginger Camel / Episcopal News Service
The Church of the Epiphany is a diverse congregation, and the learning group is said to speak some 17 different languages.
"A culture of vocation has clearly taken root here," Dr Holdsworth said. "It's good to see such a talented group, many of whom are already involved in some form of ministry, from Friday School to Council membership, eager to deepen their theological understanding. I share their excitement."
As reported in the Anglican Communion News Service on 23 October 2017