Bishop Mouneer Visit to Ethiopia October 2017
In 2006, Reverend Andrew Proud, the vicar of St. Matthew's in Addis Ababa, presented me with a proposal for enhancing the mission in the Horn of Africa. I was impressed by this proposal, and decided to create a new episcopal area in the Horn of Africa. I was convinced that this area had the potential to become a diocese in the future. At that time, there were only nine churches in the Horn of Africa: seven in Ethiopia, one in Eritrea, and one in Somalia. We used the catholic church's building for our meetings in Djibouti. In Ethiopia, there was one church in Addis Ababa, one church in Gambella, three churches in Pinyidu refugee camp, one in Dima Refugee Camp, and one in Sherkole refugee camp. In 2007, we consecrated Reverend Andrew Proud as the first area bishop of the Horn of Africa. Some of my brother bishops were astonished that I was willing to share my episcopal ministry with others, however, I was very confident that this decision was what was best for the church in the area.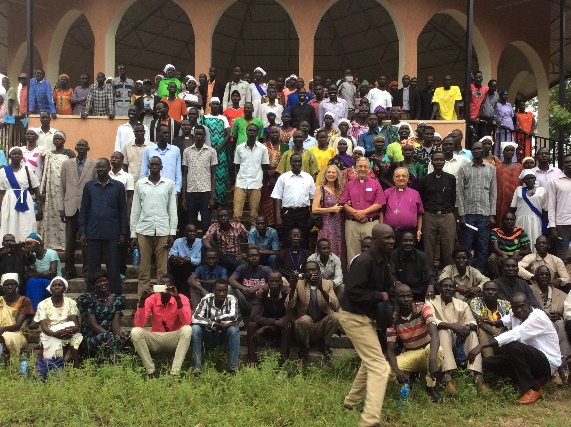 General Assembly - Gambella
Last week, I spent a few days in Ethiopia and I saw the harvest of the last ten years. In Gambella and the eastern part of Ethiopia, the number of churches has increased from seven to one hundred and twenty-five. Both Bishop Andrew Proud and Bishop Grant LeMarquand have worked very hard to organize and expand the ministry in this area. During my time in Gambella, I attended the general assembly and I was impressed by the obvious maturity of the churches. Bishop Grant has helped them to become more self-reliant than they were before. They still receive a lot of support from the episcopal area, but they no longer request help for minor issues like they used to in the past.
The Mother's Union is now very active in educating other women on how to combat the major killers of children in their area: diarrhea and malaria. Credit for this goes to Dr. Wendy LeMarquand, who dedicated her time to teaching the women in the Mother's Union.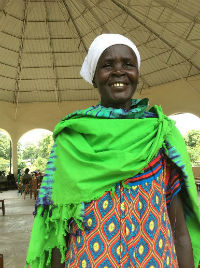 The Head of the Mother's Union
During my visit, a representative from the Mother's Union stood in the middle of the assembly and shared her experience. "We are now able to save our children from the major killers in the community, diarrhea and malaria," she said. "Dr. Wendy taught us how to treat diarrhea in a very simple way. We are now able to prepare oral rehydration fluid in our homes. We were able to save our children, and the news of our success spread throughout the area. Now many women don't go to the witch doctor, and instead they seek our help and advice." 
"The second major killer of our children in Gambella is malaria. We didn't know that malaria is caused by mosquitos. We also learned how to protect our children from mosquito bites by using nets, and how to keep the mosquitos away by using the leaves of the neem tree. We gather the leaves and burn them, and the smoke drives the mosquitos away. We are so grateful for Dr. Wendy, who taught us many useful things. We now travel to other villages in order to teach other women how to stop the deaths of their children."
The youth representatives in the general assembly also shared their stories. "Youth are causing problems in our community. They rape girls. They fight among themselves and get drunk. HIV/AIDS is spreading because of all this. They also don't come to church. We discovered that work is the best treatment for all of these problems. Poverty and lack of work also lead many girls to prostitution. We encouraged the youth to do simple jobs so that they can earn a living and stay busy. We also preached the gospel to them. This helped many of them to turn to Jesus. Many of them stopped practicing immoral acts. They also stopped consuming alcohol, and started coming to church. This is transforming our community. As youth leaders, we meet twice a month to share these stories and to pray." The youth have a goal to transform the area of Gambella by preaching the gospel.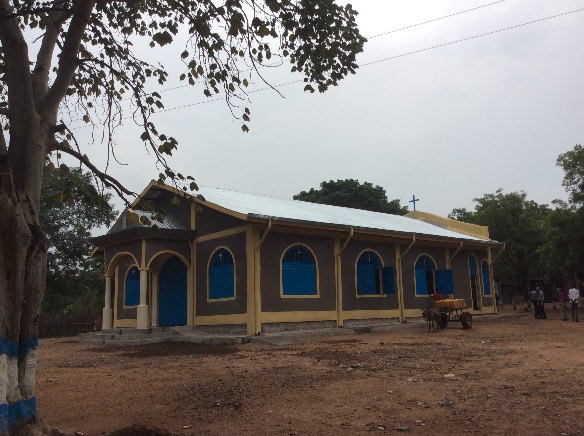 A new church - St. Luke's, in the Neur area.
Not only was I very encouraged by these stories, but I was also very happy to see that the new St. Barnabas Church building is finished, and used often. There is also a new church, St. Luke's, in the Neur area. The amount of tribal conflicts has decreased in the Anglican area. This is something we praise the Lord for. I was also encouraged to see expatriate and local staff working together in the Anglican Center in Gambella. History was made there last week when Bishop Grant ordained five new priests and three new deacons. One of the deacons was the first ever Ethiopian Amharic-speaking Anglican deacon. Now we are very close to seeing our dream of the area of Gambella becoming an independent diocese under local leadership come true.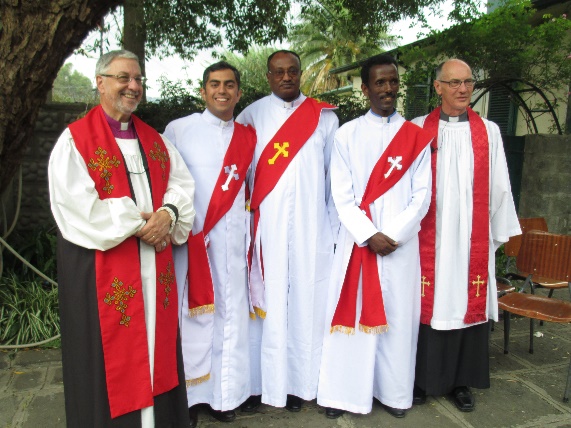 The 3 new Deacons (middle)
Once again, I would like to thank all of those who have worked hard to develop this area. Please pray for us during the process of appointing the new area bishop in the Horn of Africa. 
The Rt. Rev. Dr. Mouneer Hanna Anis
Bishop of the Episcopal / Anglican Diocese of Egypt
with North Africa and the Horn of Africa