Profile of Bible Lands Editor
Canon Tim Biles retired in 2000 after 38 years as a parish priest in Salisbury diocese. In that time he had published a number of books on parish ministry, Middle East issues, the Sudan, and one on his favourite past time, cricket.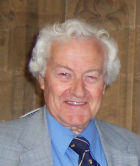 In retirement he has pursued those same interests. He edited the Provincial magazine for the Sudanese church for fourteen years and has travelled widely in the Middle East as a student, as a pilgrim and as a journalist. He has travelled even more widely in pursuit of cricket in Australia, and throughout the subcontinent.
He was appointed editor of Bible Lands by JMECA in 2008 to cover the Province of Jerusalem and the Middle East and says
"I love it, it's an excuse to keep travelling, keep learning and at the same time support some truly inspirational people".