Zion's Christian Soldiers?
Zion's Christian Soldiers? - The Bible, Israel and the Church
by Stephen Sizer
Inter-Varsity Press, 176 pages, ISBN978-1844742141   - RRP £8.99
<<< BUY from Amazon using this link and raise money for JMECA>>>
Catherine Appleby M.A. is a teacher of Biblical studies who has made several journeys to Palestine. Here she comments on Stephen Sizer's latest work on Christian Zionism.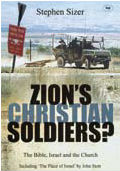 Until I attended the Sabeel conference on Christian Zionism in Jerusalem a couple of years ago, I had never heard of Christian Zionism. At the conference Stephen Sizer gave us two excellent sessions taking us through the history, from its origins in 19th century England, and its development into a powerful ideology today, with huge political implications for the Middle East. The theological questions raised were dealt with by a number of distinguished academics, but the trouble with this secular, academic approach is that it treats the Bible like any other book, and therefore does little to reassure ordinary believers brought up to believe the Scriptures. An audience of such Christians, supporters of the Palestinians because they are concerned for justice and peace, needs to be reassured that God speaks through Scripture to the aspirations and needs of every generation. We need to know that the Bible cannot be read simply as an ancient document that reflects a doubtful past, any more than it should be interpreted as a detailed brief for the endtimes. What we needed, was an explanation of scripture which would refute the very selective readings of the Christian Zionists, and help us all to recover the face of God revealed in Jesus.
This is what Stephen Sizer has done in his latest book. Writing as a committed Christian who "sees, hears, sets his heart and declares" (Ezek 40:4) what is revealed in scripture, he takes us through the orthodox teaching of all the mainstream Christian Churches on the chosen people, the land, Jerusalem, and the 'end-times' - in the gospels, in Paul's letters, and in the apocalyptic writings in the Old and New Testaments. Each chapter ends with a summary and a list of questions for further reflection, so it could be a useful text book for students, or for parish groups. The style is clear, incisive, scholarly but not opaque. It is written by a pastor who knows how to speak to his flock, out of a genuine faith in the authority of scripture, and out of practical experience of the situation in Israel/Palestine, and in the Middle East generally.