An Israeli in Palestine
An Israeli in Palestine - Resisting Dispossession, Redeeming Israel.
by Jeff Halper
Pluto Press,  352 pages, ISBN978-0745330716     RRP £17.99
<<< BUY from Amazon using this link and raise money for JMECA>>>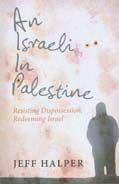 In this book, the Israeli anthropologist and activist Jeff Halper throws a harsh light on the Israeli-Palestinian conflict from the point of view of a critical insider. While the Zionist founders of Israel created a vibrant society, culture and economy, they did so at a high price: Israel could not maintain its exclusive Jewish character without imposing on the country's Palestinian population policies of ethnic cleansing, occupation, and discrimination. This, Halper argues, is expressed most graphically in its ongoing demolition of thousands of Palestinian homes, both inside Israel and in the Occupied Territories.
'An Israeli in Palestine' records Halper's revelation that he is actually living in another country: Palestine. Without dismissing the legitimacy of his own country, he realises that Israel is defined by its oppressive relationship with the Palestinians. Pleading for a view of Israel as a real, living country which must by necessity evolve and change, Halper asks whether the idea of an ethnically pure 'Jewish State' is still viable. More to the point, he offers ways in which Israel can redeem itself through a cultural Zionism upon which regional peace and reconciliation can be attained.
'Jeff Halper's book, like his life's work, is an inspiration. Drawing on his many years of directly challenging Israel's treatment of the Palestinians, he offers one of the most insightful analyses of the occupation I've read. His voice cries out to be heard.' Jonathan Cook, author of Blood and Religion (2006) and Israel and the Clash of Civilisations (2008)
Jeff Halper, an Israeli Professor of Anthropology, has been a leading figure within the Israeli peace movement for over thirty years, and the head of the Israeli Committee Against House Demolitions (ICAHD). Halper was nominated by the American Friends Service Committee for the 2006 Nobel Peace Prize and is the author of Obstacles to Peace (2005) and Between Redemption and Revival (1991)
For further information and review copies please contact Will Viney at willv@plutobooks.com or on 0208 3746424