An update on the very great challenges in Aden, Yemen
Ven Dr Bill Schwartz, OBE, has sent us a pre-Christmas update about the situation for Christians and all in Yemen - and in Aden in particular.
It makes challenging reading.  
Below are some extracts.  For the full report click here.
---
I'm finding it more and more difficult to track news media coverage of the fighting in Yemen these days. Unfortunately, I believe that is because the ongoing devastation and killing is no longer 'news' on the world scene. Indeed there is little change to the political situation, with peace talks at a stalemate and the two(?) sides both claiming to be winning. One wonders what would constitute a win in this sad and convoluted disaster.
The legitimate government is essentially absent. Even in the 'liberated' areas there is no functional civil authority;  vacuum of authority is being challenged by Islamic extremists.
The Anglican ministry in Aden has survived the war.
We took the decision to close the church and clinic when the fighting got serious, aware that it would be dangerous for people to gather at the church property. There were faithful Yemeni staff on site all the time, and there were multiple instances where they were able to turn away looters. Unfortunately, the buildings suffered extensive damage from nearby explosions.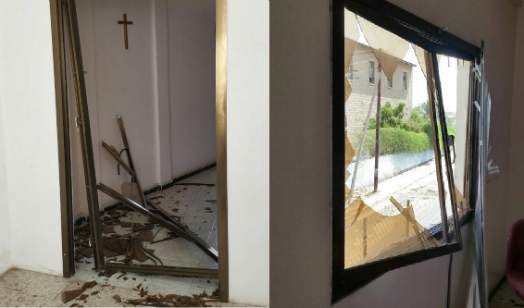 Even during the fighting, our medical staff were visited in their homes by patients familiar with the clinic, and some who were injured in the fighting.
As soon as the shooting and bombing in Aden stopped in August our able and faithful administrator got busy right away repairing doors and windows for the clinic section of the property. The reception and examination areas were re-opened in mid-September. We were able to repair the rest of the medical wing and resumed performing eye surgeries in mid-October. 
Right now, extremist groups are assassinating foreigners, even Muslims from the Gulf countries who have come with the Red Crescent Society to provide food and medical care for Yemenis. It looks like there will be some delay before aid and development NGO staff will be able to return to the city. However, it is our hope that we will be able to establish a clergy couple in Aden as soon as it is safe for them to be there.
As an addendum I am sad to say that the Catholic Church properties in Aden have been severely damaged. 
I would urge that we do all we can to influence a negotiated ceasefire, but also to support urgent and long-term relief and development work to rebuild Yemen.
It will take years to replace the damaged homes and businesses that support the daily life of the people. Let all who care for Yemen and its people continue to pray and urge others to pray, and find ways to encourage holistic Christian ministry there.
respectfully submitted 25/11/2015
Ven Dr Bill Schwartz, OBE