Ordination of the first deaf Minister in the Diocese of Egypt
Report taken from the Anglican Communion News Service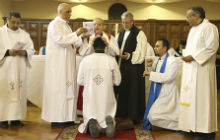 Archbishop Mouneer Anis has, for the first time, ordained a deaf person as a deacon. The Revd Clement Alfons was ordained at All Saints Cathedral in Zamalek, Cairo.  Many from the deaf community in Egypt came to witness the occasion. Egyptian sign language was used throughout the service - during the singing, the Scripture reading, the preaching and during the Ordination itself. Archbishop Mouneer described it as a memorable experience:
It was such a joyful time as hundreds of hands waved approvingly in unison in joyful agreement and response whenever that was called for.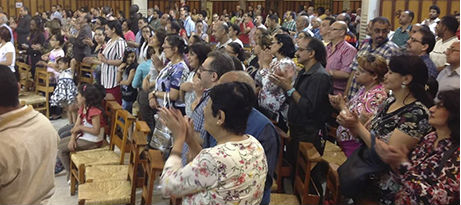 Three Coptic Orthodox Church priests were also present to witness the Ordination. The Episcopal/Anglican Diocese of Egypt is the first to start a Church for the deaf in Egypt – and has almost completed the translation of the Gospel of Mark into Egyptian sign language. In a statement, the Diocese said:
With this ordination, the Episcopal/Anglican Diocese of Egypt has made another significant step towards meeting the spiritual needs of the deaf. May this also serve to inspire many others to be involved in ministering spiritually to this very special group of people.

Revd Clement with his wife Nermeen
Posted 5th May 2017