EDA Elects New Chairman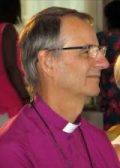 At 2017 Annual General Meeting, Bishop Bill Musk was elected to become the 12th Chairman of EDA and just in case you don't know Bill who was out of the UK for the last eight years
Ordained in Cairo in 1981, Bill served in the Diocese of Egypt before returning with his family to the UK in the late 80s when he led churches in Liverpool and Southwark dioceses.
In 2008 Bishop Mouneer invited Bill to return to the diocese of Egypt to serve as Area Bishop for North of Africa and Rector of St George's, Tunis where he served until he retired in late 2015.
Bill earlier worked with Operation Mobilisation, Living Bible s International, Middle East Media and the Church Mission Society. He has produced such well-respected works as "The Unseen Face of Islam", "Touching the Soul of Islam", "Holy War", "Kissing Cousins" and "The Certainty Trap ."
Both Bill and his wife Hilary are not stranger to EDA as Hilary served on the committee during the time they were in Egypt, both are true and  faithful servants of Christ
Please Join us in prayers for both Bill and Hilary