Monty Rose 1927-2016 - A Personal Appreciation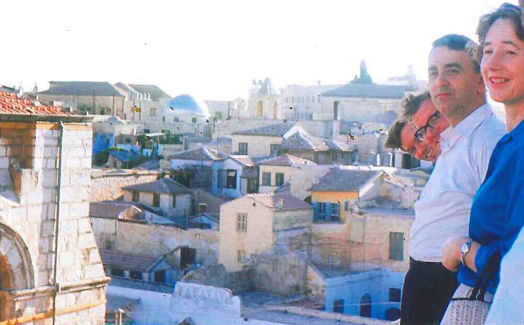 Monty Rose (nee Montagu Lucy Buxton) will be remembered with great affection by very many people who visited St. George's Jerusalem during the 1960's and 70's.  Appointed as secretary to Archbishop MacInnes in 1962, Monty and John Rose, Warden of the Hostel, became close, were engaged in April 1965 and were married by the Archbishop in May of that year at the Cathedral.

John was warden for twenty years, after which he and Monty moved to the Ecumenical Institute at Tantur in 1974 soon after the end of Archbishop Appleton's time in Jerusalem. Monty wrote a full account of the work at Tantur in Bible Lands, Spring, 1975. They stayed there for two years before finally leaving Jerusalem for Long Wittenham near Oxford.  Thus Monty had been closely involved with the life of St. George's for some twelve years as Archbishop's Secretary and in support for John. They loyally remained in Jerusalem throughout the war of 1967 and the traumatic events of that time are detailed in John's book, 'Armenians of Jerusalem'  telling the story of his family (his mother was Armenian) from the turn of the century onwards.
During the fighting of 1967 an ambulance with four injured Jordanian soldiers was burnt by napalm right against the wall of the hostel compound in Saladin Street close to the rear door of the kitchens.  The wall is permanently marked at that point by the fierce heat and Monty said that it was the worst thing which she had ever seen. 
I first encountered Monty when revisiting Jerusalem in 1965.  I found her very good company and a most engaging personality and she effortlessly made very many friends among all with whom she came into contact.  At that time the Holy Sepulchre was undergoing restoration  and a small group of us, in company with the architect, went on a tour of inspection – I particularly recall how the vault was being rebuilt.  Our group went out on the ledge of the smaller dome and there we are with Monty in the accompanying photograph.  It looks more risky than it was but nevertheless was still quite dramatic.
Monty shared with John a keen interest in the flora of the region and between them made many forays to look for the plants which flourish particularly in the spring and autumn.  John of course had transformed the garden spaces of the hostel and his reputation was such that he had been invited to lay out the grounds of the residence of the Apostolic Delegation on the Mount of Olives in readiness for the visit of Pope Paul VI in 1964.
My wife, Valerie, and I became firm friends with Monty especially after their return to England. We visited their house at Long Wittenham several times and this continued following John's death in October, 1996,  when Monty moved to Wallingford.  They had returned to Jerusalem every year and had the use of a property in the Armenian Quarter adjacent to the remains of the church of St. Thomas.  This had become a mosque at some point in the past and the base of its minaret intruded into their living room – a delightful feature.  Monty remained a welcome visitor to the Armenian Convent in her own right.
In 2004 Monty joined us in a further visit to Jerusalem when the three of us stayed at St. George's (where else ?) and  we went on together to Galilee.  She was always good company and a most  delightful companion.
Monty developed Leukaemia in later years and this flared up after a period of remission late last Autumn.  Her death took place shortly before Christmas (18th December, aged 89).  We, and the St. George's community, have lost a good and loyal friend.
Martin Lee      
JMECA Trustee
7.4.17