Exploring reconciliation during Anglican Holy Land pilgrimage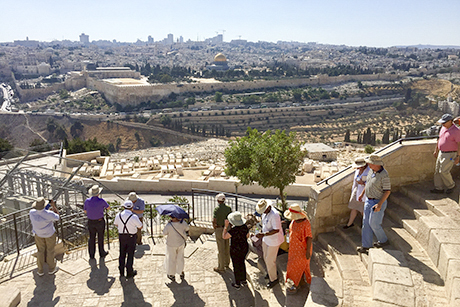 Report posted on ACNS June 26, 2017
Anglicans from around the Communion have begun a 12 day pilgrimage to the Holy Land. Five primates as well as the Anglican Communion Secretary General, Archbishop Josiah Idowu-Fearon, are accompanying the pilgrims. Among the highlights of the tour are Jerusalem, Bethlehem, Nazareth, Capernaum and the Sea of Galilee.
Pilgrim Alice Wu shares her thoughts on arriving in the Holy Land:
[Alice Wu] As a first-time pilgrim, I have been feeling apprehensive for at least a few months.  I knew I was to expect the unexpected.  I knew no matter how thoroughly I were to study the books on the reading list, or stare at the maps printed inside the Bible, I would still feel disoriented.  Once I was on the flight out from Hong Kong to Tel Aviv, I knew that jitter bugs had at some point turned into expectant waiting.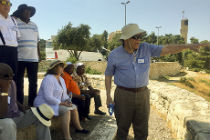 We are an international gathering of pilgrims taking part in "An Anglican Communion Pilgrimage: A Journey to the Holy Land."  The fact that the commencement of our pilgrimage at the weekend coincided with the end of the intense month of prayer and religious devotion, Ramadan, for Muslims, and the closing of the Shabbat for Jews has not been lost on us.
None of us came here believing that we would not be transformed.  None of us came here not prepared for an intense spiritual journey.   
One of the pilgrimage leaders, Revd Canon John L. Peterson,  made sure that we all understood how we came about being "chosen to be here."  He explained the Secretary General of the Anglican Communion, Archbishop Josiah Idowu-Fearon, had chosen five Primates, five members of the Anglican Consultative Council, five Provincial Secretaries, five members of the Compass Rose Society and five Friends of the Anglican Communion to walk this journey in the Holy Land together. 
..."and this journey is meant to be a very different one"  Canon John said: "I've never done this before in my life, as many times as I have done pilgrimages, we've never done anything like this."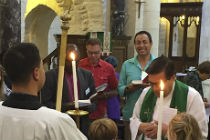 Revd Phillip A Jackson of Trinity Church Wall Street, in New York,  has been given a special role in this pilgrimage, at Archbishop Josiah's request.  We learned that at the end of each and every site we visit, we are going to stop - and Fr Phillip is going to lead us as we contemplate on what the site has helped us to understand of reconciliation. How does the site help us work together in more creative ways? Or does the site cause differences — and how does it cause differences —  and how do we deal with these differences? How do we arrive at a better understanding because of the different sites that are associated with our Lord's ministry?
It is time for us to recognise that it is time for us to deal with our differences and talk of reconciliation and explore how we can live together as a Communion.  It is a tall order, to be sure.  But as our orientation meeting ended – with  Muslims gearing up to celebrate the end of Ramadan and the conclusion of Shabbat ushering in the new week for  Jews, this group of post-Pentecost pilgrims was ready to be inspired and transformed.
Canon John reminded pilgrims not to cross our legs, ever, for the next 11 days.  As it is considered most disrespectful to show others the soles of our feet, we must take special care to plant both feet firmly on the ground.  It is also a reminder for us pilgrims to be grounded in our Lord as we follow His footsteps, journey on exploring paths of reconciliation and learn to come to terms with this conflict-ridden and disorientating world.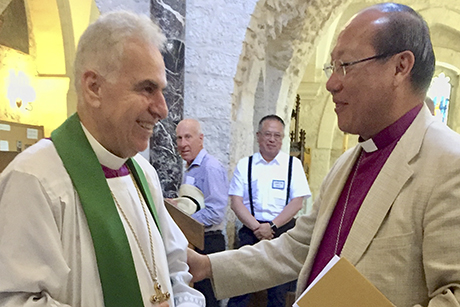 Archbishop Paul Kwong meeting Archbishop Suheil in St George's Cathedral, Jerusalem