Christ Church, Jebel Ali Celebrates 15 Years

March 8th marked the 15th anniversary of  the dedication of Christ Church, Jebel Ali. Thank you to Archdeacon Bill for presiding and preaching and to the other congregations who joined us (especially Al Saints CSI) for the celebration.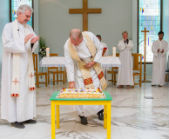 Archdeacon Bill Schwartz cutting the anniversary cake.
---
A Brief History of Christ Church, Jebel Ali
The foundation stone for Christ Church Jebel Ali was laid on the 3rd of November 2000 and the Church was consecrated on the 8th March 2002 by Bishop Clive Handford. Representatives from other parts of the diocese came as well as hundreds of people from the Chaplaincy to a joyful ceremony thanking God for His blessings, and praying for the Rulers of Dubai who had graciously given the land.
The leadership of the church at first was from the wider Chaplaincy, including Revd. Denis Gurney from Holy Trinity Church,  Dubai and Revd. Bill Atkins from St. Martin's Church, Sharjah, until the first resident priest could take up office in Jebel Ali.
Revd. Jim Wakerley was the first priest appointed to the church in December 2002. The congregation was small at first- Jebel Ali was in the middle of the desert, far from everywhere except Jebel Ali Village itself!
Revd. Canon Stephen Wright arrived in January 2004 and with the growth of Dubai outwards Jebel Ali came the growth too of the church.Revd. Tim Heaney became Parish Priest in January 2015.